What is the efficiency of a solar panels?
Solar panels are employed to trap the sunlight in their structure and convert it to electricity by photovoltaic systems, but a specific amount of sun's energy can be converted to electricity by a solar system since solar panels are not 100% efficient and they cannot trap the full energy of sunlight.
Solar panels suffer from low efficiency in their operations. Most of the solar panels are less than 20% efficient, which means that they can just trap about 20% of sunlight energy.
It's obvious that the efficiency of a solar panel highly depends on its price and quality. Solar panels are devices to convert the sun's energy to electricity, so for this purpose, the material employed in solar panels to stir the electrons by the sunlight is a semiconductor. Semiconductor materials by the help of p-n junctions in their structure can motivate the electrons to move by the energy which is got by the sunlight. This electron movements from the N-type semiconductor (which electron is majority-to the P-type semiconductor – which electron is minority carrier) produces an electrical current. The amount of this current is dependent on temperature, the impurity of semiconductor and the irradiance of sunlight.
Different types of semiconductors are used in the design of the solar panels. Here 3 major types of solar panels and their efficiencies will be discussed. Monocrystalline, Polycrystalline, and Thin-Film solar cells are mostly employed in solar panels. These types of solar panels have advantages and disadvantages compared to each other. Here the main discussion is about the efficiency of the solar panels so these types of panels can be ordered by monocrystalline, polycrystalline and thin-film means that monocrystalline solar panels are the most efficient ones (15-20%) while thin-film solar cells are the less efficient panels (7-13%). It can be predicted that the order for efficiency is applicable to the price of the solar panels where polycrystalline and thin-film solar panels are more cost-effective than monocrystalline ones.
Figure 1 demonstrates the topology for each type of solar panels, in monocrystalline panels, the corners of solar cells are truncated to decrease the number of materials used in the panel and optimize the performance of the photovoltaic system.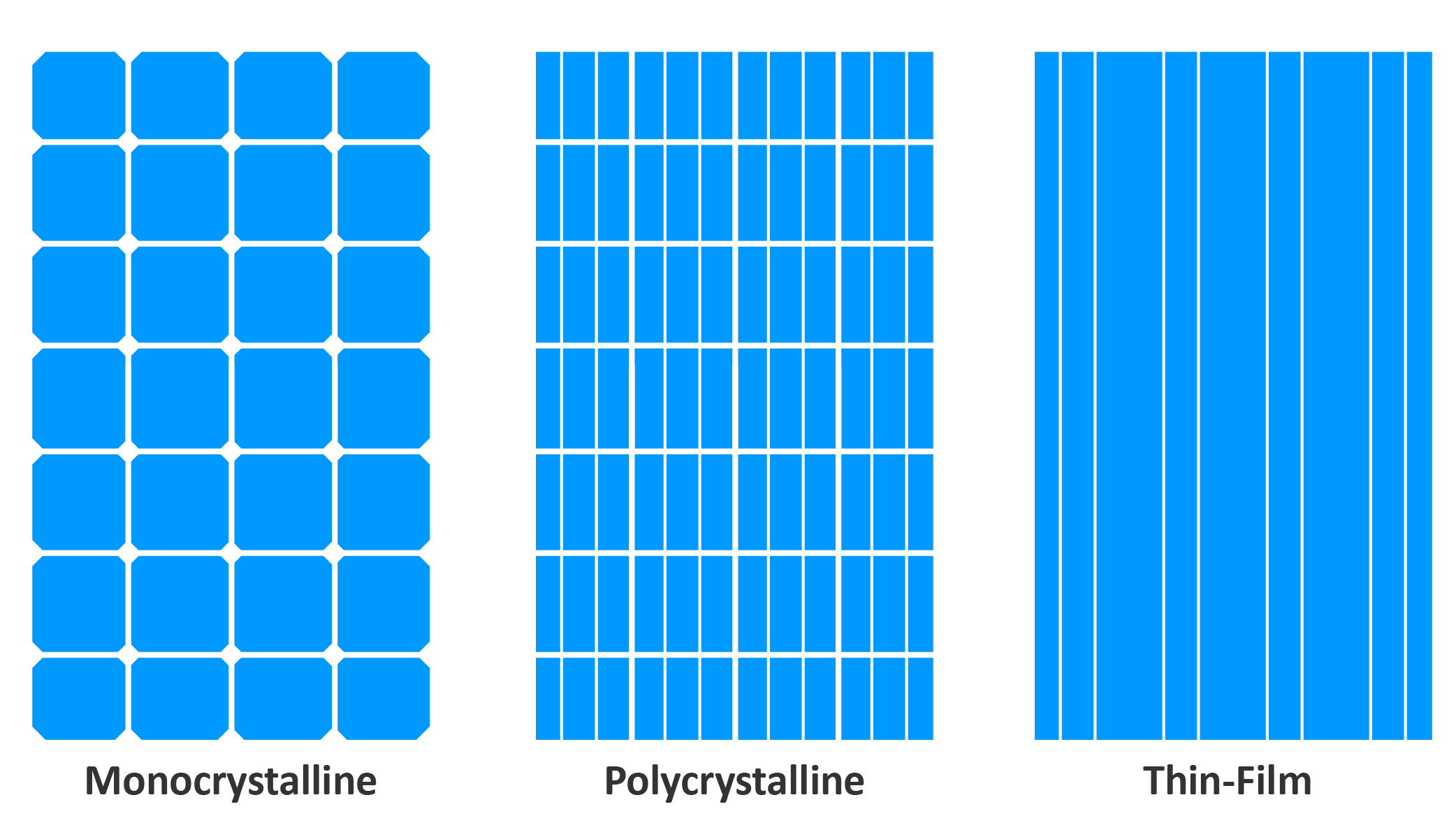 Figure1. overall view of solar panels
Efficiency
Cost
Space
Fabrications Process
1

Monocrystalline

(15-20%)

Monocrystalline

(Expensive)

Monocrystalline

(Space-efficient)

Thin-Film

(Easy process)

2

Polycrystalline

(13-16%)

Polycrystalline

(Moderate)

Polycrystalline

(Moderate)

Polycrystalline

(Moderate)

3

Thin Film

(7-13%)

Thin Film

(Cheap)

Thin Film

(Large-scale)

Monocrystalline

(Complex process)
Table 1-performance review of solar panels
One of the most important factors in the solar panel's efficiency is the temperature where, as temperature increases, efficiency decreases. So for extra high temperatures, solar panels are involved with efficiency loss. Various solar panels are available in solar markets with different amount of efficiency and hence different prices but solar panels at the best case are not more than 22.8% efficient which is a trending topic among the scientists to improve panel efficiencies. Here the efficiency of a 72CELL series2 1500V panel of YINGLI SOLAR is illustrated which enriches the 17% efficiency for the best case at standard test conditions